The Mk2 Focus RS has firmly established itself as a bona fide modern classic. Right out of the factory, it was an incredible thing in stock form; emerging in 2009, the RS immediately set a new standard for B-road blasters. It offered 301bhp and 325lb.ft from its shouty 2.5-litre five-cylinder turbo motor, with a quoted top speed of 163mph. Under the skin was a Quaife LSD and Ford's super-clever RevoKnuckle suspension, and the exterior was amusingly aggressive with its in-your-face aero and pumped-up proportions. Yes, it was still a practical hatchback, but it served up performance that would give Porsche 911 owners something to worry about. And as the ensuing decade-or-so has taught us, this RS is a platform keenly embraced by the aftermarket with outstanding potential for gains across the board.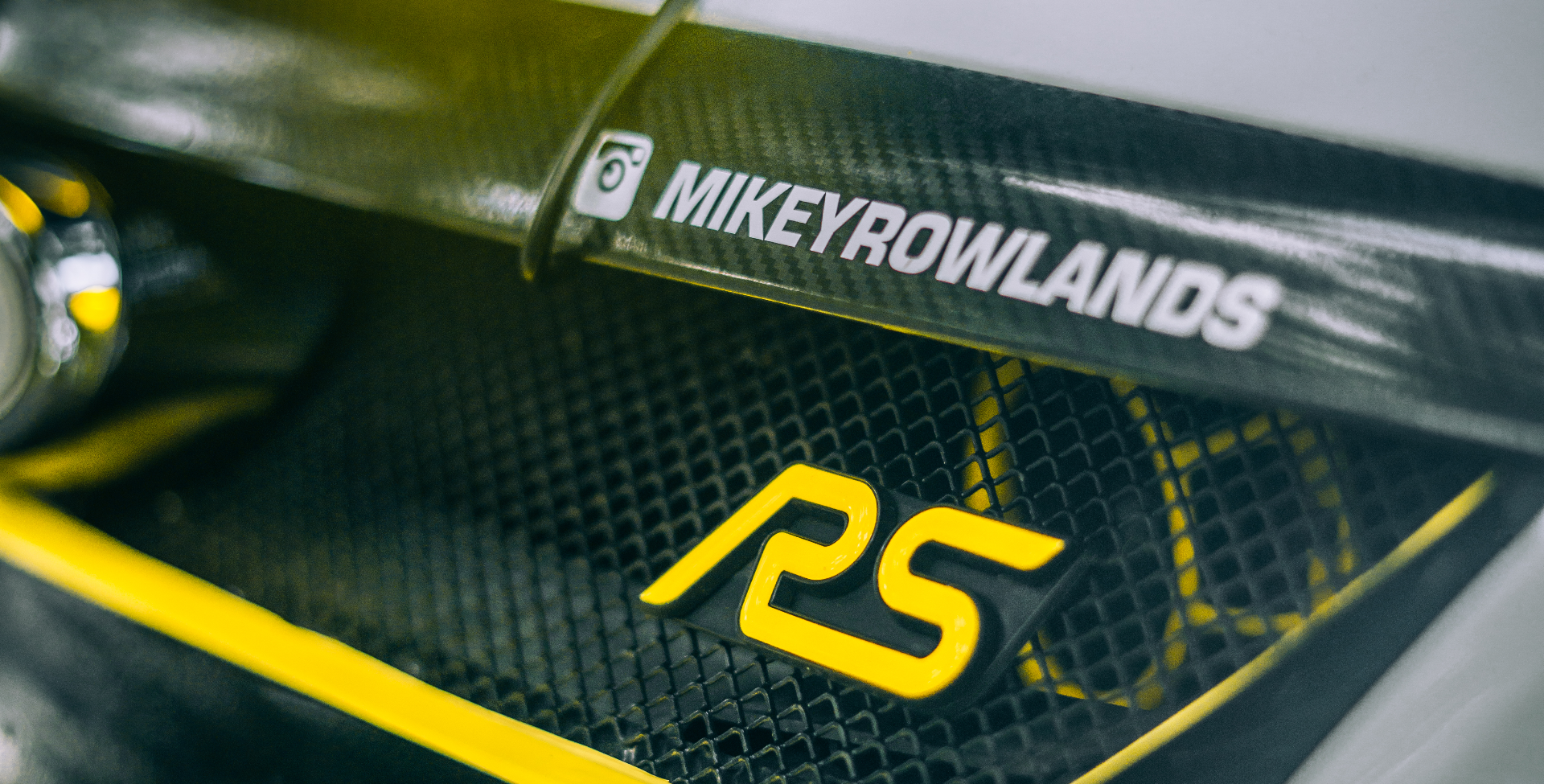 For Mikey Rowlands, there was a certain inevitability that he'd end up owning one someday. "I've always been into cars," he assures us. "When I was growing up, my dad had many Ford rally cars, Mk1 and Mk2 Escorts, and later on there was a wide-arched RWD Mk3 Fiesta RS Cosworth. Watching him spend hours in the garage building those cars made me want to do something similar."
 

It's so often the case that the motoring enthusiasm is intertwined in the DNA, being passed down from one generation to the next, and the crux of the matter was this: "The Mk2 Focus RS is, to me, my generation's defining Ford RS," Mikey explains. "It's such an aggressive looking car even from standard, and they just sound unreal! After seeing these getting used in the late 2000s as WRC cars I knew I had to own one. It's an icon."
Mikey was thorough and particular in his search, ultimately unearthing a totally stock 2009 RS in white; it popped up on eBay and, with just 49k on the clock and the previous owner keeping it fastidiously garaged and maintained, it seemed like a no-brainer. Of course, 'totally stock' isn't really a phrase that features much in the Rowlands lexicon, and it wasn't long before the RS was being amped up, remixed, and generally elevated to a higher plane of performance prowess.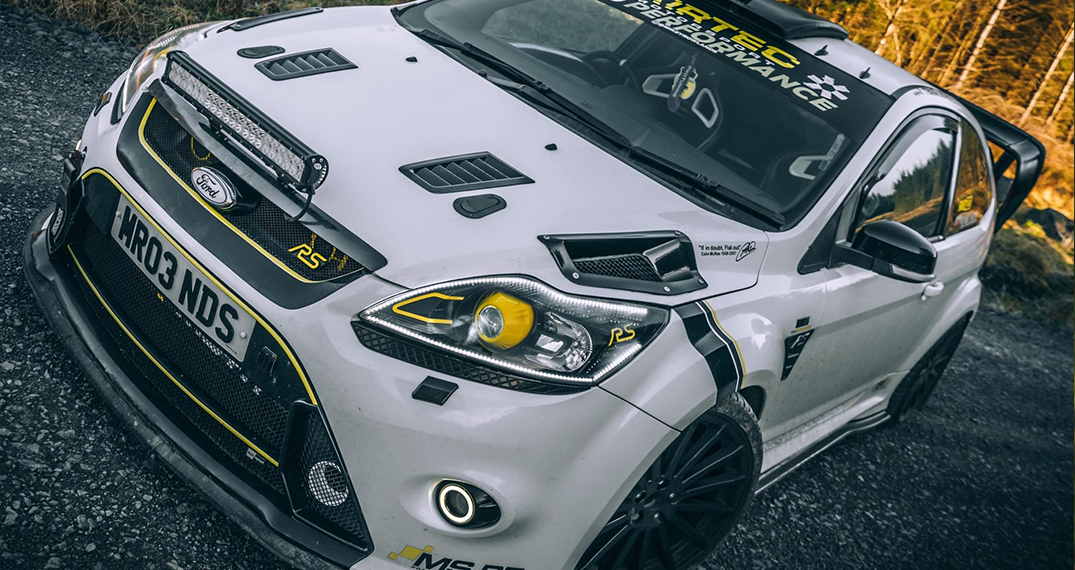 "After owning it for a few months, I wanted to do some subtle things to the car to get some more fun out of it," he says, with admirable restraint. "So I started with the K&N Group A induction kit and a TurboSmart wastegate and recirc valve to get some more turbo noise. Then came the Milltek exhaust system to give it some growl, and the next thing I knew I had a 400bhp fire-spitting monster! And when some engine issues presented themselves in late 2020, I ended up getting the motor fully forged with Mahle pistons and K1 rods, plus some Newman Cams, all set up by BD Performance in Wrexham."
With all of this extra power on tap, they suggested a few upgrades in order to keep the car usable to its maximum potential, and when it came to suspension there was just one name they had in mind: BC Racing. The BR Series coilovers are ideally suited to Mikey's fast-road adventures, with the combination of refinement and agility – not to mention huge levels of adjustability – transcending the character of the RS to a whole other realm.
"My RS lives for the North Wales forests, which are the stomping ground of the World Rally Championship," he beams. "Whenever the car's out on the streets or at meets and shows, it always gets looks too – people are forever coming over to check it out, they're intrigued by it. The performance and the handling puts a smile on my face every time, popping and banging through the gears and hanging on tight through the corners!"

Mikey's got big plans for the future too, he's far from done with the upgrades. He'll be pushing for 500bhp in the next round of mods – and knowing the enormous potential of these eminently tuneable machines, there's so much further he can go. With that agile chassis reassuringly #BCEquipped, he's got the platform and the hardware to truly push the limits.

_ _ _ _ _ _ _ _ _ _ _ _ _ _ _ _ _ _ _ _ _ _ _ _ _ _ _ _
Specs
Engine & transmission:
2.5-litre five-cylinder, fully forged build, Mahle oversized pistons, K1 rods, Newman cams, 750cc injectors, Airtec Stage 3 intercooler, Airtec plenum, Airtec 3.5" downpipe and big boost pipes, RTS clutch, 400bhp

Suspension:
BC Racing BR Series coilovers 
View here

Brakes:
OEM RS

Wheels:
19" RS 15-spoke wheels, 235/35/19 Tyres

Interior:
Kode steering wheel, carbon fibre trim, yellow piping

Exterior:
Custom graphics, RallyFlapz, yellow spotlights, yellow piping, roof scoop, WRC bonnet vents
Thanks:
"Massive thank you to BC Racing for the continuous support, BD Performance for helping me rebuild and keep the car alive, and RallyFlapz for always helping!"