Nissan's iconic Z-car line stretches back to 1969, and it's always been a thoroughly international offering. Looking way back to the original 240Z, which was marketed as a Fairlady Z in Japan and a 240Z elsewhere, the key aim has always been to create GT cars with international appeal, with a particular focus on tantalising the US market. And with a new-wave Zed soon to hit the showrooms, it's a dynasty that truly spans the generations.

The 350Z has mellowed into a true modern-classic; manufactured between 2002-09, it was basically an old-school muscle car disguised as a cutting-edge Japanese coupé – you got a thudding great 3.5-litre V6 up front, driven wheels at the rear, oodles of Z-car heritage stretching back across the ages, and a handy combo of 287bhp and a kerb weight of 1,450kg-ish. Respectable numbers, and a respectable little car. A number of changes arrived for the mid-cycle facelift, including the 'Rev-Up' evolution of the VQ35DE engine – which had a different ECU, variable exhaust valve timing, uprated internals and plenum, and 300bhp. It's a format that evolved over its time in production, and yet retained true to those classic roots: exploitable power, entertaining chassis, baby muscle car proportions.

So what happens when you fuse this Americana-tinged Japanese heritage with some more straight-down-the-line Japanese elements of art and design? That's what Phil Davies has sought to explore with his vividly purple Zed, and the latest vibe he's playing with is something known as itasha. Now, this is an entertaining cultural trope, as it directly translates as 'painful' or 'cringeworthy', which is a bold approach to take with one's car. All very tongue-in-cheek then, but the style of itasha has a lot of cultural weight behind it. Essentially, it involves decorating a car with characters from manga and anime; the roots of it stretch back to the 1980s with little stickers and plush toys, but the process of slathering whole cars in manga/anime artwork is a far more recent thing, growing in prominence over the last decade or so. There's a real credibility to it as well; various race teams have fielded itasha cars in competition, including Good Smile Racing's AMG GT-R in the Autobacs Super GT series, and Pacific Racing's Super GT Ferrari F430. This is an in-joke that's it's extremely cool to be a part of.

The idea of building an itasha car wasn't front-of-mind from the off, however. "I've normally been quite sensible, modifying cars sensibly with wheels and springs," says Phil. "I had a really nice 406 Coupe, an M3, and back in the day a tasty Colt. But nothing as mad as my Zed!"
The thought process behind buying a 350Z in the first place was a fairly simple one – that classic formula of big engine/RWD/manual 'box was really flicking Phil's switch, and the fact that it's a two-seater meant that he wouldn't always have mates begging for lifts. So with all these conceptual boxes ticked, he set about searching for a good example, and ultimately arrived at this one: a two-owner car with full service history. "I didn't want an orange one, and I definitely didn't want an orange interior – and this car had both," he laughs. "But it was the right car and, ah well, it grew on me."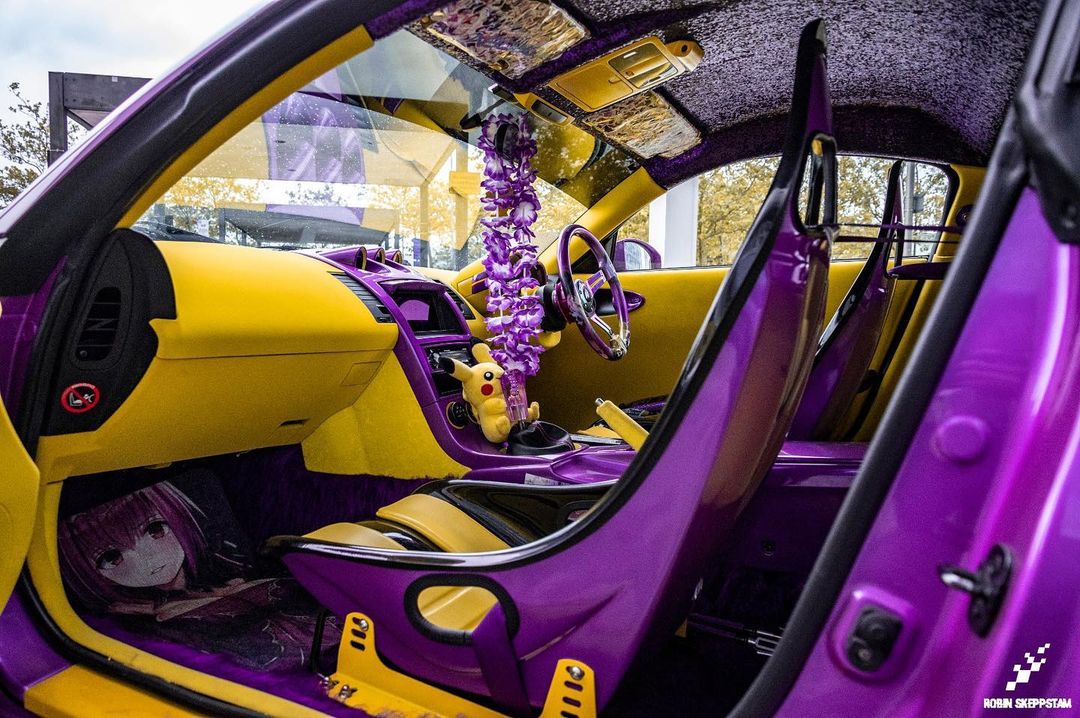 Evidently not for long however, as the spec of the car today is markedly different from its as-bought bone-stock nature. With a few blemishes needing taking care of, Phil planned a respray in its original orange – however, with some rust being found in the common places, this was cut out and perfected and, with all of this going on, Phil started to question the logic of sticking with the colour he hadn't really wanted in the first place.

"When I was in the paint shop, there was a really cool red BMW outside and I started thinking, 'Why go boring orange? I'm doing a full respray, I can do whatever colour I like…'," he continues. "So I researched a few colours and spent a few hours in the shop; finally I settled on a really pinky/pearly metallic colour. I painted the front bumper and it took about four coats because it was too pearly; going back to the paint shop, I mixed up a really nice deep purple base coat. With that colour chosen, the bodyshop painted the car… but as it turned out, I didn't like it! And I wanted to fit a rear spoiler too, so it was back to the drawing board. I used a different bodyshop that I'd heard was better, Triple R; having installed the wing and painted it, I painted the car with Triple R because I wanted to learn, and boy did I…"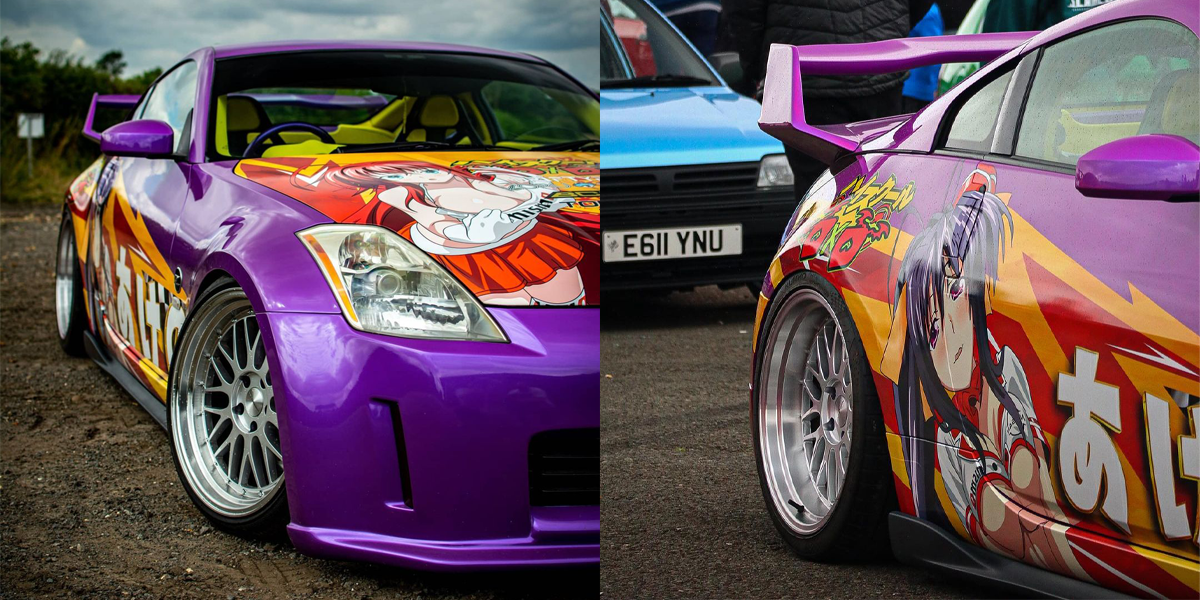 The 350Z was looking pin-sharp by this point and, with some new wheels and lowering springs fitted, Phil began to hit the shows. However, at every single outing he was finding that show-goers were pointing out how his customised body was juxtaposed with a totally standard interior. And that criticism was like a red rag to a bull. "I thought 'That's it, I'll really give you something to look at'," he laughs. "That's why the interior is the way it is."
It really is remarkable, isn't it? Every single element has been customised, from the sequin headlining and sound-activated LEDs to the massive audio and fluffy carpet. The seats are fully custom and shaped to Phil's backside, sitting on custom runners that cost more than a lot of people's entire cars. It's a fully bespoke visual assault, and the lurid cabin is perfectly complemented by the unique itasha graphics that now cover the purple body.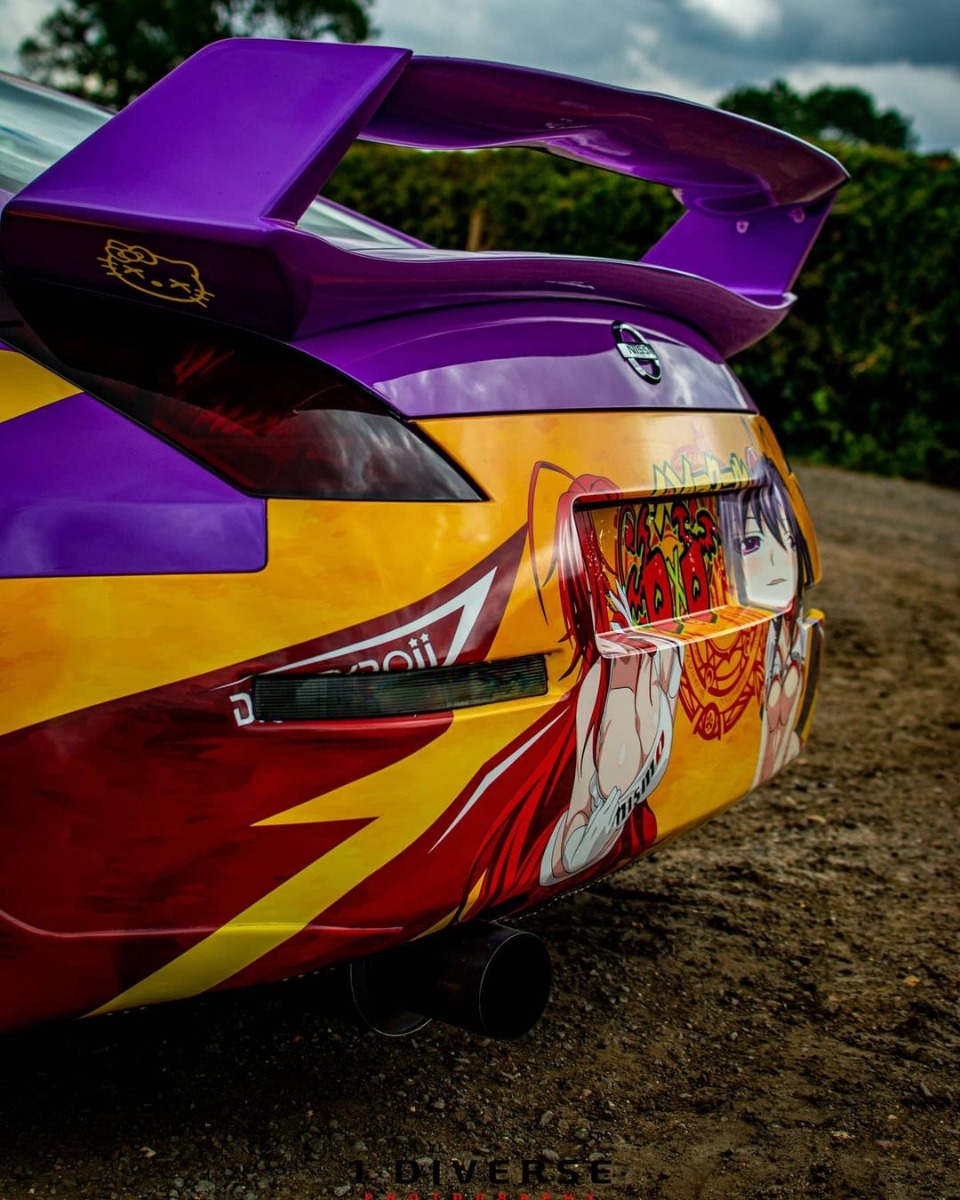 "The final piece of the puzzle was becoming #BCEquipped and to fit BC Racing Ultra Low coilovers, plus all the camber arms to sort the fitment out," says Phil. "And I'm not just saying this – the suspension is freaking awesome!"

Perhaps the most satisfying part of all is that this car truly is Phil's own creation. Aside from the paintwork, he's done absolutely everything on it by himself.
"People's reactions? Ha, well you can't miss it," he grins. "Most people love it. Obviously there are some haters, but whatever." And that, of course, is very much the itasha way. 'Painful'? Sure, but every barb is a badge of honour.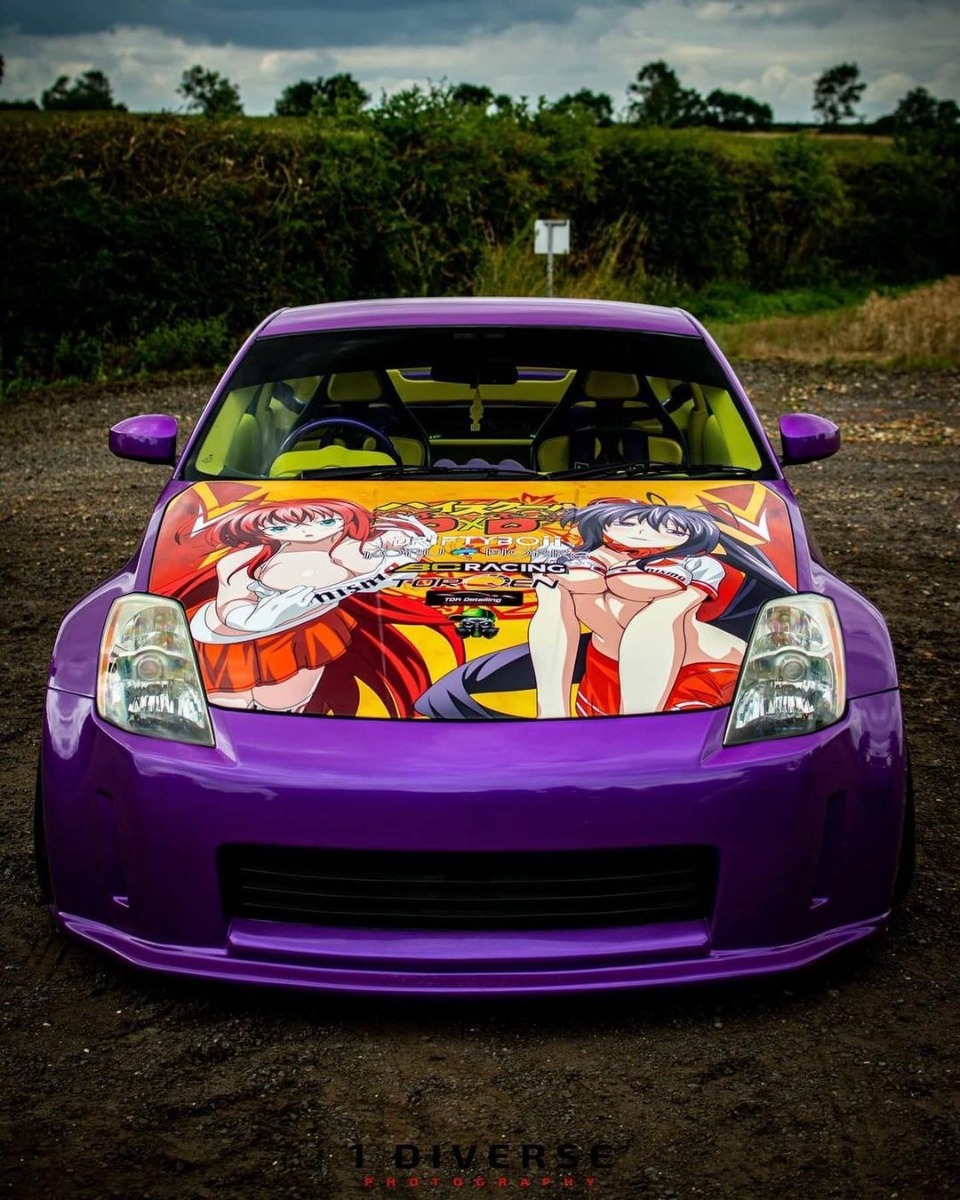 ____________________________
Engine & transmission:
VQ35DE 3.5-litre V6, cat-back Agency Power single-exit exhaust system, 6-speed manual, rebuilt diff

Chassis:
BC Racing Extra Low coilovers, 19" Varrstoen wheels, Hardrace front and rear camber arms, solid bushes throughout front end, polybushes throughout rear end, Hardrace rear toe arms, everything powder-coated yellow and purple, StopTech BBK with drilled and grooved discs, braided lines

Interior:
Custom purple sequin headlining, custom @rsrepairs steering wheel, all black plastics flocked yellow, custom purple bubble gearknob, gear gaiter stitching upgraded to pulled stitched leather, customised diamond-encrusted passenger door handle, centre console resprayed to match exterior, Huawei tablet in centre console, custom hidden amp rack in secondary glove box behind driver's seat, custom-made seats moulded to driver with custom padding and backs painted to match exterior, custom seat brackets, sticker-bombed sun visors, full LED install around seats and into footwells with sound-activated lighting, custom floor mats, customised colour-matched door sill plastics, custom purple fluffy carpet, GCF harness bar – powder-coated purple, Luke harnesses, twin 12" Avatar subs in custom Perspex box (made entirely from one piece of Perspex) sound-activated LED lights around subs, custom @purplezed Instagram logo lighting, front speakers upgraded to Alpine components, Pioneer 4-channel and 2-channel amps

Exterior:
Custom-mix paint, custom itasha graphics, custom rear wing, custom multi-colour underbody LEDs
Thanks:
"Thanks to everyone really – RS Repairs, Rushden Graphics, TDK Detailing, and my mrs!"