'Skyline'. It's one of those names that evokes irrepressible urges and swells of excitement among car enthusiasts of a certain age. For the generation raised on the Gran Turismo franchise, there's a sort of winners' club of halo models to which they will forever aspire; we're talking about the cars pegged at the notional gentlemen's-agreement 276bhp figure – the Mazda RX-7, the Honda NSX, the Mitsubishi 3000GT and, of course, the Nissan Skyline GT-R. These cars held us in their thrall, enraptured us with their cheeky mystique; the authorities filed them at the infamous claimed power figure, but who was really top dog?


For many – and not least because of the 'Godzilla' R32's relentless racing successes – there are few more alluring names in the Japanese tuning sphere than 'Skyline'. While today's burgeoning JDM enthusiasts may well be captivated by the cult of the R35 GT-R, a car so phenomenally accomplished that it makes supercar owners feel distinctly short-changed, an older audience fondly recalls the days when the GT-R badge was appended to a series of Skylines rather than being a model in its own right. Not that it was all that long ago, of course – the last Skyline GT-R was on the forecourts as a new car as recently as 2002 in R34 guise, while the Skyline name overall has been soldiering on (separately from the GT-R offshoot) ever since. And today's retro tuner is well aware that the GT-R name stretches back into Nissan lore as far as 1969, and the Skyline moniker all the way back to '57. There's a rich seam of heritage to mine here.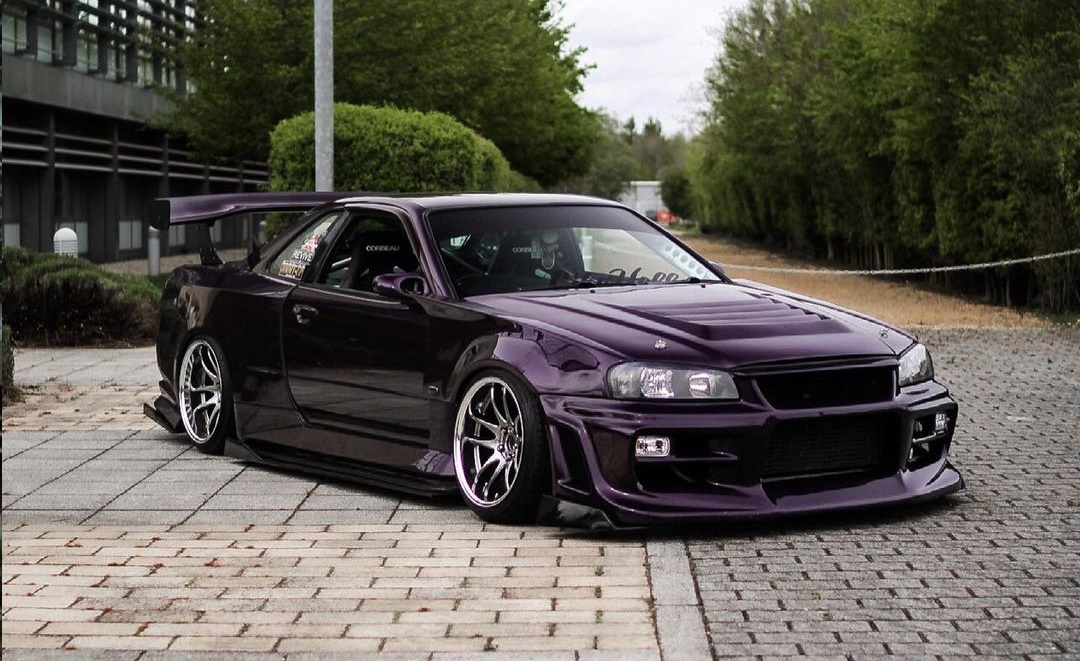 Of course, there's more to the performance Skyline oeuvre than the halo GT-R. A broad model range catered for a wide variety of buyers, and the GT-T has become the de facto choice for a generation of drift enthusiasts – because it's RWD instead of AWD, and rear-drive is what you need for quality skids. And with the R34 generation, the GT-T was something special indeed.

The R34 is really the grown-up Skyline. This is the generation that introduced the more fuel-efficient and environmentally friendly 'NEO' versions of the RB engines – but that's not to say the Skyline had gone soft; the high-performance variants were still absolute animals. More so than ever before, in fact. Designed by Kozo Watanabe, who also penned the R33, the R34 was sleeker and more aggressive, and this was accentuated yet further by a late-2000 facelift which revised the front bumper and headlights. In GT-T guise it came from the factory with a boosted RB25DET NEO, packing that iconic 276bhp figure and really spoiling for a rumble.
 

As you've probably already deduced from the photos, however, the GT-T you see here is some way removed from factory specs. Resplendent in a custom mix of shimmering purple, Watanabe's crisp design has been further enhanced by a sort of greatest-hits tribute act to the very best of the JDM aftermarket, with body addenda inspired by such great styling houses as JUN and Sunline Racing. The genesis of all this is intriguing too, as its owner – James Hibbert – is a man who builds cars to please himself rather than impress anybody else, as keenly evidenced by the fact that having fulfilled a lifelong dream in buying a GT-R, he pretty quickly sold it to buy this GT-T. Which many people thought was a bit of a mad idea.

"It just made sense to me," he says. "As good as the GT-R was, I just started to miss the fun of rear-wheel drive, and drifting in particular." The logic is as simple and as flawless as that, particularly when you factor in the fact that these cars can be found for a tiny fraction of the ever-escalating prices of GT-Rs.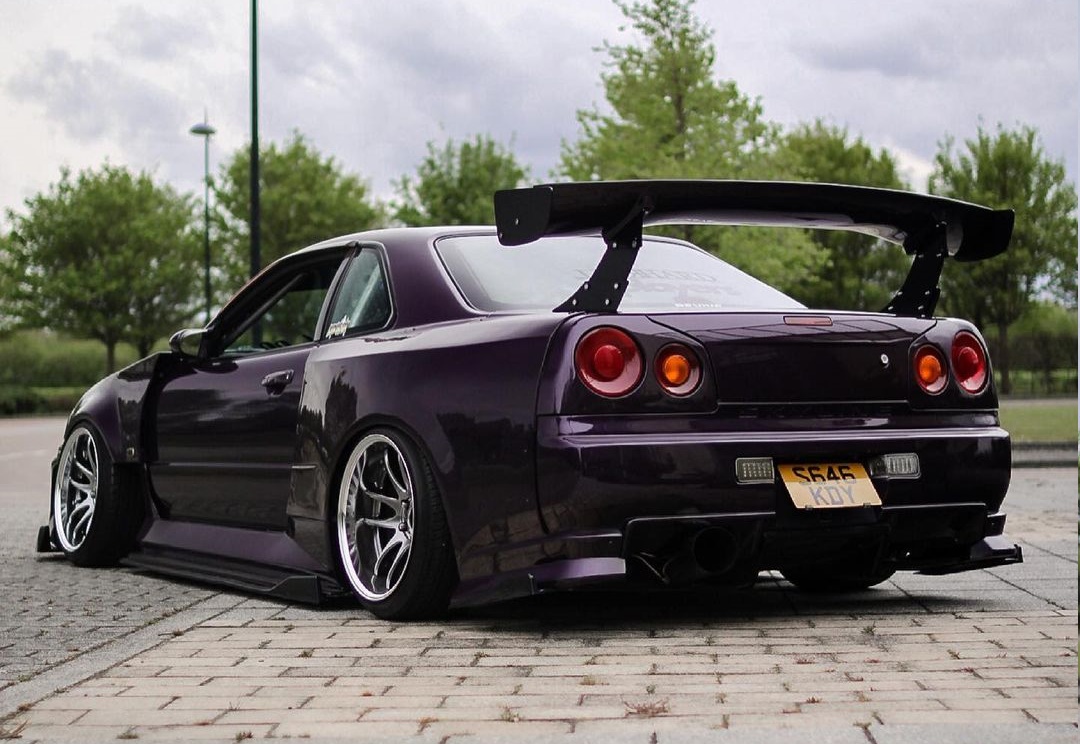 The deal worked out pretty well for James, with a Tommykaira-kitted GT-T coming his way along with a fat wad of notes amounting to eighteen-grand (see, it's a massive gulf between the two models), so he had a decent budget with which to make his mark on the R34. And that's precisely what he did, removing the Tommykaira bodykit and replacing it with the plethora of desirable upgrades you see here, all sourced via EP Racing. The car was already packing a set of BC Racing coilovers, which is exactly what James would have fitted anyway so that was a bonus, and with the car sitting pretty the arches were tubbed by Desire Motor Factory to take a set of ultra-concave 7Twenty Style 46 rims in staggered widths. These have since been ousted for a set of WORK CR-2Ps, and the rears are a meaty 10.5" across, so it grips just as well as it slips depending on James's mood.


A smart move, and the form and function ethos carries over to the interior, which has been fully stripped and painted metallic silver with extra glitter, stuffed with bucket seats and a rollcage, and yet still retains day-to-day usability and pleasure thanks to an intelligently conceived audio system. And the big story, as with any Skyline, is what's going on under the bonnet: the RB25 is running a fat single turbo in the form of an HKS GT RS Pro with TiAL external wastegate, howling like a banshee as the shotgun tails blast. The straight-six's full suite of upgrades has been corralled by painstaking mapping courtesy of Fensport, the upshot of which is a juicy 450bhp at 1.4 bar. Evocative figures for an evocative car – poised, balletic, brutal, and extremely purple. A bona fide legend that keeps getting remixed.

____________________________
 All images courtesy of : @lowco_automotive via instagram
____________________________
Engine & transmission:
RB25DET NEO 2.5-litre straight-six, single HKS GT RS Pro turbo, TiAL external wastegate, HKS downpipe, HKS elbow and custom unsilenced shotgun-tail exhaust, A'PEXi Power FC, Blitz SUS air intake, Z32 MAF, Splitfire coil packs, HKS oil filter, IHR high-capacity fuel pump, uprated SARD injectors, SARD fuel pressure regulator, uprated GReddy radiator, GReddy oil cooler, uprated GReddy intercooler, carbon coil pack cover, steel head gasket, silicone hoses, 5-speed manual with short-shift, 80% solid gearbox mounts, Kaaz 2-way LSD, HICAS lockout bar, ORC twin-plate clutch, lightened flywheel
450bhp @ 1.4 bar

Chassis:
9.5x18" ET0 (front) and 10.5x18" ET20 (rear) WORK CR-2P wheels in GT Silver with polished lips, 225/35 (f) and 255/35 (r) Achilles 123 tyres, 10mm spacers all round, adjustable BC Racing coilovers, Japspeed tension arms, Japspeed track rod ends, Japspeed rear camber arms, front lower arms extended by 25mm, R34 GT-R Brembo brakes, EBC grooved and dimpled front discs, Ferodo DS2500 pads, Outlaw drift button on stock handbrake, braided brake lines

Interior:
Fully stripped and painted metallic silver with extra glitter, HDF weld-in rollcage with crossbars, door bars and gussets, Corbeau Club seats with custom low mounts, Driftworks 4-point harnesses, dash trimmed around rollcage, Blitz gearknob, Nardi steering wheel, NRG quick-release boss, Defi water temp and oil temp gauges with Defi gauge controller, Blitz boost gauge, A'PEXi boost controller, fire extinguisher, 10" Vibe subwoofer in custom enclosure, Vibe 6x9s, Hertz front speakers, Kenwood DVD head unit, Broadway mirror

Exterior:
Custom-mix purple paint, Sunline Racing-style rear quarters, Sunline Racing-style sideskirts, Sunline Racing-style front wings, JUN-style front bumper, Z-Tune-style bonnet, R34 GT-R rear bumper, rear lower diffuser, Ganador mirrors, de-spoilered bootlid, rear wiper removed and blanked, R34 GT-R rear light covers, Nismo smoked side repeaters and front indicators, rear arches cut and tubbed, Bluetooth-controlled undercar neons